Not A Trampoline is the debut solo album by Rob Cantor. It opened to pre-release sales on March 4, 2014 through BandCamp and released on April 14, 2014. Along with the announcement of the new album, Rob debuted the first single, Old Bike, along with the music video for it, a new website, and new Facebook Page.
Not a Trampoline
Album art

Rob Cantor

Released
2014
Length
36:33
Label
N/A
Producer
Gregtronic
Track Listing
Edit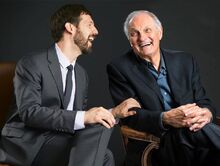 The album was recorded at Bora Karaca's studio, the LABORATORY, in Los Angeles. It was mastered by Dave Cooley at Elysian Masters.
The album art was conceptualized by Bora, and shot by him and Rob. Rob had originally wanted to use a flamingo feather, but thought it was "too serious and symbolic".
Track 5, I'm Gonna Win, was originally written by Joe Hawley for Tally Hall; Rob obtained permission from him to re-record the song for his solo album. The song existed in various iterations, including a number of stage performances by the band, since 2005. It was featured on The Pingry EP as a demo, then titled "All of My Friends".
On the album's Bandcamp page, Rob dedicates it to Alan Alda, saying: "For Alan, my shimmering Hawkeye in the sky," referencing Track 9 (In Memoriam).
In the album art, there's a picture of Rob and Alan together, which was actually photoshopped by Bora. They asked Alda's agent if it could be used, and Alan allowed it, responding, "I don't get it - does this mean I can collect my life insurance NOW?"
Community content is available under
CC-BY-SA
unless otherwise noted.